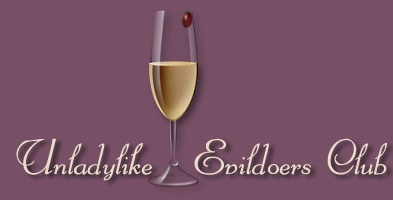 What Is The Unladylike Evildoers Club?
The Unladylike Evildoers Club is a group of people who tired of the usual way of internet question and answer sites. It is a safe haven where all can express their opinions and views on a wide range of topics, and know that even in debate they will be treated with respect. In this peaceful atmosphere, friendships are forged among the members. This haven also provides support for its membership as the varied challenges in everyday living present themselves. UEC is not religious, but it has a strong spiritual bond within its membership. Our main goal at all times is to preserve a sanctuary of peace and harmony for all who join us. We attempt to maintain an atmosphere of tolerance rather than censorship. We strive to grow with the addition of new members and new features for the group. All are welcome to come join in and share the unique experience that is the Unladylike Evildoers Club.
How Do I Can Join The UEC?
If you believe you have what it takes to be an Unladylike Evildoer, you must apply for membership to our Club. If you are already a member of Ezboards all you have to do is click this link:
http://p080.ezboard.com/buectopicdiscussion
You will be taken to a page with the following message:
In order to gain access to The Unladylike Evildoers Club you must apply for membership first. We like to learn about all of our potential members beforehand to ensure that our discussions are thoughtful, lively and spam free. If you are interested in becoming a member of the UEC, please click the button "Apply for Membership" and you will be contacted via email whether or not your application was accepted. And just in case you're wondering - we are NOT a porn site! ;)
If you are not a member of Ezboards, you will have to register with them first by following this link:
What Do You Do On The UEC?
The UEC is a series of discussions in message board format. The list is extensive including:
Unladylike Creativity

Spirituality/Religion

Pets

Food & Drink

Women's Issues

The Man Page

Health

Politics

Fun & Games

Computers & Technology
We offer our members the option of maintaining their own Journal which can be either for their own private use or accessible by all;
Members have the option of having an icon/avatar designed to their individuality by the UEC Webmaster;
All member birthdays and special events are acknowledged with special graphics again designed by the Webmaster;
Instant messaging and private chat.