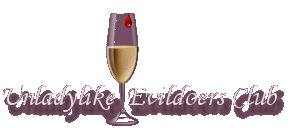 What The UEC Means To Me
GreyEyes - Webmaster/Graphic Designer

The Unladylike Evildoers. A perfect name for a community of friends. Way back before this site was born I had been kicking around an idea for a site devoted to women of a certain age and the men who love them. Last April I quickly put this site together as I and the rest of our members were feeling quite displaced. We had a temporary gathering place on a Yahoo group but it just wasn't enough.

Not only have I been able to keep my friends close, I have been given the wonderful opportunity of getting to know others whom I really didn't know that well before. We laugh, we cry, we rejoice and we mourn and we do this together. We debate issues and even disagree from time to time but with one huge difference - we respect each one's uniqueness. You'll see no nastiness or intolerance on this site!

I have learned so much from each and every member of the UEC and I continue to learn daily. We have 26 Evildoers and I consider each one of them my friend. What more could one want?

Sue - Site Administrator
Flogo - Social Events Moderator
Psykomom - Social Events Moderator

Solana - Forum/Grievance Moderator
To me, the importance of the UEC is the security that I feel there. I enjoy being able to have an opinion, and express it.. then discuss it. Everyone at UEC is very opinionated, and we all accept that about ourselves and each other. We are able to state our opinions and discuss them. No flaming occurs, no personal attacks.. just discussion.

I enjoy the comfort of being among friends and people that care about each other. There is a sincerity and warmth in the gathering of friends that is easy to feel when you step inside our little site.

We are more than online chat partners.. UEC is more than a game or message board . It is truly a gathering place for friends, new and old friends. We come here when we are happy, sad, lonely, hurt, joyful, frightened or silly. It is okay to" just be", at UEC.

We enjoy each other, disagree with each other, support and appreciate each other at UEC.

That is special.
SamHill - Site Administrator

Pilvikki - Membership Moderator

I'd been sailing the stormy seas of Q&A sites for a couple of years, but often enough found that it always wasn't what I'd expected: a way to help people, to get some answers to sometimes sticky, or not, questions. Or to have fun and relax after yet another irritating day at work...

Then someone did us a favour and singled us out as the Evil lurking about another site. Of course, we were a bit confused about at first, but soon came to see that they were right: we didn't fit the formula of trashing others at whim, nor demurely accepting it when garbage was thrown at us. Since these folks considered themselves akin to saints, we came to the conclusion that indeed, we must be very, very evil. [At this point I'd like to sing "Evil Woman", but I don't know the lyrics...]

This is what I call home now. We sometimes disagree, we misunderstand [all, except us blondes, of course], but we sort it out. And we learn a lot.

If only I could remember any of those lessons...